Once upon a time we thought life would never end. We were young and bullet proof. Life was adventurous and exciting. Life for the band began during the sixties in New Zealand. The Hi-Revving Tongues were borne from an Auckland band called Species Nine. Chris Parfitt, Bruce Coleman and John Walmsley were members of that band. Micheal (Bear) Balcombe crossed over from the band Sierras.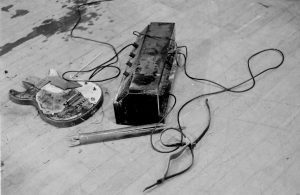 In the mid sixties the Hi-Revving Tongues released their first single which was categorized as the first psychedelic sound recording created by a band from New Zealand. That disc was "Illusion"/"Hate To Go". It wasn't a huge success. It is "Illusion" written by Mike, that is remembered as an early example of New Zealand psychedelia. The group also possessed an enthusiasm for onstage pyrotechnics arranged and engineered by the bassist John Walmsley. Mock up amplifiers and prop guitars would be ignited in mid performance along with loud sound effects, smoke bombs and other unexpected pyrotechnics that would keep the audience keyed-up.
In 1967 The Hi-Revving Tongues recorded two more singles on Allied International "Not Some Of The Time"/"You'll Find Me Anywhere" and "Come Back And Love Me"/"I've Been Lonely Too Long".
The group later changed record companies and recorded "Tropic Of Capricorn"/"Baby I Need Your Loving" on Phillips. This new single dominated the local New Zealand charts but didn't make it on the international scene.
It was the local success of this new single that motivated the group to spend more time in the recording studio producing the album "Tropic Of Capricorn" which was released in 1967.
In 1968 they entered the "New Zealand Battle of the Sounds 67" competition and became runners up to the Fourmyula. Also in 1968 The Hi-Revving Tongues entered the ""Rothmans Battle of the Sounds"" competition and won. Three cheers.
The Hi-Revving Tongues went on tour with Australian rock legend Johnny Farnham. In 1968 they released two more singles "Make Yourself At Home"/"To My Love" and "Elevator"/"You'll Find Me Anywhere".
In 1969 the group headed off to Australia as part of their prize for winning the band competition. While in Australia "Baby Come Back To Me"/"Little Red Rooster" was released on Zodiac.
A second single "Rain and Tears"/"Watermelon Man" was also released and "Rain and Tears" began climbing the national charts. After about eight months of performing in various clubs in Sydney they were called home by manager Eldred Stebbing to promote Rain and Tears and support its entry into the Loxene Golden Disc Award. The song reached number one on the national pop charts and the band won the group section of the Loxene Gold Disk Awards in 1969. Listen to and view "Rain And Tears".
On returning to New Zealand John Walmsley decided to leave the Hi-Revving Tongues. Later he returned to Australia where he currently resides on the Gold Coast. Bassist Graeme Thompson took over from John Walmsley and at around the same time Richard Sinclair replaced Rob Node on drums.
At the festival "Redwood 70" in West Auckland the Hi-Revving Tongues gave their last New Zealand performance. Chris Parfitt decided to go solo releasing two singles in 1970 on the Ventura label called "I Wish I Were A Child"/"Jenny Didn't Wait" and "Promised Land"/"Old Familiar Face". The remaining members renamed themselves to The Tongues and recorded a second album.
In the early seventies The Tongues scored a gig on a cruise ship which took them around the world. Shortly after their life at sea, members of the Tongues moved to Australia and reformed as Caboose. This band line up included Ken Deakin (x Australian group Levi Smith's Clefs) on vocals, Mike Balcombe on guitar, Bruce Coleman on keyboards, Graeme Thompson on bass and Rob Node on drums. The band released one single called "Ballad Of Frank A Lane"/"Casey's Hat".
In 1971 Phil Cave organised a tour of the country towns of NSW. The tour was to go down in The Guinness Book of Records. The tour folded in the city of Lismore. Supporting act on the tour "No Sweat" boasted a line up of many nationalities.
Caboose hooked up with Ivan Dayman an Australian promoter who controlled a chain of venues in major cities around Australia. Dayman's flagship act was Australia's '60s "King of Pop", Normie Rowe.
During the early 70's Caboose toured the eastern states of Australia, including The Northern Territory, not knowing when or where their next pay cheque would come from.
Dayman sent the band to perform in Adelaide, Brisbane, Gold Coast and Darwin. During this period Caboose had a few line up changes. Ken Deakin left the band and was replaced by Sydney vocalist Doug Smith. Doug is also a Kiwi making the band line up 100% New Zealanders again. There are more than half a million Kiwis living in Australia. Graeme Thompson departed and was replaced by Ross Simms. Drummer Richard Sinclair replaced Rob Node, then later, Richard returned to New Zealand and was replaced by Kelly Klemick.
It is noted that around the last day of a resident gig in Darwin that Dayman requested the group to get on the road and be ready to perform at a venue in Adelaide within a few days. "She'll be right father".
Caboose performed their final act at the Coolangatta Hotel on the Gold Coast in 1972.
In 2001 Ascension Records released a CD that contains the entire original "Tropic Of Capricorn" LP plus other Zodiac singles.
In 2014, forty-two years after their last performance as a group, inspired by Bruce Coleman, the "Caboose Tongues" reunion was staged. Realizing that we are no longer as bullet proof as we once thought, almost all of the members of the two bands came together for the reunion on Saturday 3rd of May. The event commenced with a dinner at The Coolangatta Hotel ( where they played their last gig in 1972 ). The next day all the band members and a group of friends traveled to a venue in the hills of Northern New South Wales to perform some of the songs from their 60's and 70's repertoire. That event in the hills is documented on this blog.